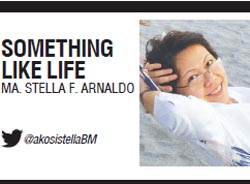 I WAS practically vegged out in the living room, watching Dynasty. (Or Hill Street Blues—if Papa had control of the TV. It's no wonder crime dramas are one of my favorite genres.) That was what I was doing when I was 16.
There was just no end to Alexis Carrington's schemes to destroy her ex-husband Blake and get a hold of his empire, even as she bitched away and wrestled with her "replacement" Krystle in the fountain, while dressed in their fabulous thick shoulder-padded power suites or glorious evening gowns.
As music videos became the norm in marketing our generation's favorite music artists and performers, that too became part of my TV diet. There was Queen with Freddie Mercury strutting onstage in "Under Pressure," or Kim Carnes in those huge black sunglasses singing "Bette Davis Eyes," or Phil Collins in black and white, solo drumming/singing a haunting warning of something "In the Air Tonight," and so much more.
Outside the home, I was a normal teenager in second year high school, grappling with algebra—bleah! That year, I was usually transferred to the front of the class beside the quiet girl, because the teacher would deem me too talkative. (It never worked of course, because I would still chat up the quiet girl.)
And it worked out to sit in front of the class, especially when we got desks that had an open shelf underneath because that was where I would keep my sandwich. Because I didn't eat anything for breakfast before going to school—I was almost always late despite our home being just nearby—I would sometimes get hungry before recess and needed a quick bite or two of my baon. (Spam sandwich!)
Or perhaps, I wasn't so normal after all—I hung out at the library during my free time as a student librarian. Not because I was a nerd (nyark!), but because it was the only few rooms in Saint Theresa's College that was air-conditoned then. Also, as a student librarian, I got first dibs on the Nancy Drew books that arrived every few months or so.
I had no worries, not many cares in the world. In those times, we had no social media, so we relied on the Marcos-controlled dailies for news. Or the TV news, where we would only had to wait for Tony Zorilla's eyebrow to rise for us to get that the news he was reading was all BS. So we were not preoccupied or worried about what was going on outside the four walls of our classrooms or our homes.
So when 16-year-olds today like Greta Thunberg take to the mic, address members of the United Nations during their Climate Action Summit, and give them a dressing down like a parent would to a child, we stand up and take notice. And Thunberg said it so plainly and frankly: "This is all wrong. I shouldn't be up here. I should be back in school on the other side of the ocean. Yet, you all come to us young people for hope. How dare you!"
How can we not agree? This is the same grief we feel in my generation, despite trying to do what is right in terms of environment protection, but our leaders will not listen. Thunberg's speech at the UN, and all her pronouncements since she started taking off from school one day a week calling for stronger action against climate change, are grounded in sound science.
"For more than 30 years, the science has been crystal clear.—The popular idea of cutting our emissions in half in 10 years only gives us a 50-percent chance of staying below 1.5 degrees [Celsius], and the risk of setting off irreversible chain reactions beyond human control," Thunberg thundered. "Fifty percent may be acceptable to you, but those numbers do not include tipping points, most feedback loops, additional warming hidden by toxic air pollution or the aspects of equity and climate justice. They also rely on my generation sucking hundreds of billions of tons of your CO2 out of the air with technologies that barely exist," she continued.
We only have to look at our country as proof of the impact of climate change. In 2013, Supertyphoon Yolanda (Haiyan) swept away homes, businesses and lives in many parts of the Philippines. Strangely enough, the Duterte administration failed to send any official delegation to the said summit. (Then again, not surprising. Our energy department continues to allow the construction of pollutive coal-fired thermal power plants, instead of encouraging a shift to renewable-energy sources despite the decreasing price tag on materials. "Clean coal" technology is a farce.)
On our own, we can do little things to save our planet, like for example, switching to LED bulbs, reducing our waste by composting, planting more trees, using our cars less, etc. And while our country no doubt does not compare in terms of its contribution to the overall pollution of the world compared to the developed nations like the United States, we too need to start reforming our personal habits and government policies.
There are measurable impacts on the enviroment when we implement the correct government policies. How much less CO2 will be released into the atmosphere if we use the MRT (or LRT) more instead of our cars? But of course, how can we ride this when the Department of Transportation can't even beef up the number of trains on the MRT 3's elevated tracks, or rehabilitate the energy infrastructure that makes the trains run? See what I mean?
There are solutions available, and government officials know them all, but most are hard-pressed to undertake these because they have other priorities (their pockets?), or choose to protect their friends' business interests.
It's the adults who should think of the solutions to climate change and make the effort toward reducing global warming. But when the adults behave like children and refuse to listen and do the right thing, it's no wonder the young ones like Thunberg do the scolding.
Image credits: AP