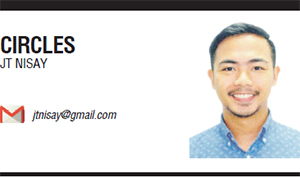 IN a modern world where no social construct goes unchallenged, the concept of family is no exception.
What is considered as the basic unit in society now comes in all forms, with relationship replacing bloodline as qualifier. A group of friends, a single mom and her child, or even a homosexual couple rearing five cats is as much a family as the next one in today's world.
Visual artist Reen Barrera takes on the idea through various mediums in his ongoing solo show, titled Family Day, at Vinyl on Vinyl Gallery in Makati City.
Born in Paris, Barrera is a son of OFW parents.
He was brought to the Philippines as an infant and was raised by his grandparents. As a child, Barrera fixed religious wooden sculptures in his neighborhood, the excess wood from which he used to make his own toys.
The natural-born artist pursued higher studies to hone his talent, and majored in Fine Arts in Far Eastern University. After graduation, however, Barrera went corporate until he, eventually, returned to the art scene as a full-time artist.
He is known for a neo-expressionist style influenced by one of the genre's greatest artists, Jean-Michel Basquiat, who died 31 years ago yesterday at age 27.
Another feat of Barrera's art are his signature characters. One of whom is a head-wrapped, pointy-eared humanoid called Ohlala. The name is a sexual innuendo in Paris, the artist said, but he remembers his father using the term differently, such as when he's disappointed at something.
According to Barrera, the idea of the character comes from the idiom "It's written all over your face," wherein people, devoid of words, can still convey emotions, feelings through facial expressions.
"It's a silent way of communicating something without noise," said the artist, who actively tries to imprint facial expressions on his mind and create artwork from the recall, mixing the image with his trademark symbols and patterns.
In his ongoing solo exhibit, his seventh, Barrera showcased his most imposing iteration of Ohlala to date, titled It's Lonely Up Here, which is a 10-foot, deadpan iteration of the recognizable character, made of the artist's old bed frame, along with cloth and metal.
The piece stands tall in the show, which explores the idea of family in today's world.
In a debut sculpture series titled Blessing in Disgust, composed of four mother-and-child pieces, Barrera expresses his admiration for single parenting.
"Society has a lot of issues/comments with regards to this, but for me, it is something to be praised," he said.
The artist also showed that familial ties aren't limited between humans. Displayed in a one of two automata pieces is Ohlala with another Barrera character, Duge, both perched on a box emblazoned with the piece's title, Best of Friends.
The show features seven paintings, as well. One is a 60"x 72" acrylic on canvas, titled Family Day, which shows Barrera in full-bloom as a neo-expressionist in earthy tones with rich detail.
The piece marks the first time Barrera used an airbrush in painting. It was just one of the many uncharted territories that the artist explored for the show, which, he said, is a staple undertaking in every major exhibition.
"I require/pressure myself to create something new with my techniques and compositions," he said. "And with the help of certain events in my life, inspirations and the aim to do something different, that becomes possible."