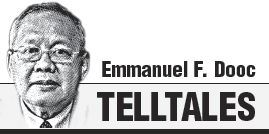 President Erap who turns 82 on April 19 has already received the most treasured birthday gift after he reconciled with his son, Senator JV. It must be recalled that the two had a falling out when Sen. JV left the Puwersa ng Masang Pilipino, the political party founded by his father, to run for his re-election under the Nationalist People's Coalition of Mr. Danding Cojuangco.  Earlier, Sen. JV and his half-brother, former Senator Jinggoy, had already appeared together in political rallies sponsored by the parties loyal to the President. I believe that they all need each other to succeed in their respective political quests. The family that stays together wins together. It also demonstrates once and for all that politics is thicker than blood.
* * *
And speaking of Senator JV, several months ago SSS conducted a seminar and relief operations in Albay but we got stranded in Legaspi airport for four hours waiting for our flight to Manila. Senator JV and his Senate staff were also at the airport to board the same flight after conducting a public hearing in Bicol on a bill he was sponsoring. The airport was teeming with people crammed inside the small lounge area. Limited seats left people standing in every nook and corner. Obviously learning of his plight, local friends of the Senator came and delivered drumsticks and popsicles for him, which he shared with us and the other passengers. Senator JV, I'm sure these people will remember the ice cream and popsicles.
* * *
After the successful rehabilitation of the world-famous Boracay, the government has turned its eyes on the massive cleanup of Manila Bay. A major work will consist of desilting its bed where several layers of sediment have accumulated, compacted and solidified over the years. This excavation project shall cover several kilometers starting from the US Embassy area and will take years to complete. I would like to commend the DENR, Department of Public Works and Highways and the Department of Tourism for spearheading this project, which has just received lip service in the past. We should all support their efforts and their determination to pursue this mammoth undertaking. Earlier on, DENR, with the help of the Laguna Lake Development Authority and the local government units concerned, has issued CDOs to several establishments along Roxas Boulevard and the reclaimed area for allegedly dumping their waste and effluents on the bay. As in Boracay, the government has flexed its muscle and shown political will to enforce our environmental laws without fear, favor and fanfare. If there's a political will, there's no problem that we cannot solve. And it seems the current leadership has a reservoir of that.
I trust that this cleanup and improvement of Roxas Boulevard will restore the beauty and grandeur of Manila Bay and its much-admired sunset by the bay. I remember the time when my expatriate friends and co-workers in American International Group in HK and Southeast Asia would visit Manila after I returned to Philamlife. I would take them in the restaurants and bars in the Luneta area after 5 p.m. and wait for the sunset. As there was no selfie then, I would be busy taking their photos against the gloriously setting sun. In one of my visits in our head office in lower Manhattan, I saw one of these enlarged photos beautifully framed and hanging in one executive office.
* * *
It is unfortunate that politics again has derailed the approval of the 2019 national budget. The current impasse resulted from the alleged illegal realignments of funds made by the Lower House after the Bicameral report was approved by both chambers. The Senate leaders accused their counterpart in the House of Representatives of diverting the funds to pad their pork barrels and those of their allies, which drew reaction from the latter that the Senate had likewise made insertions in the proposed budget. Despite the President's effort to mediate during a meeting held in Malacanang, the matter remains unresolved.
Congress will resume its session on May 20.  Let's hope that the results of the election will have a sobering effect on our honorable members of Congress and realize that approving a legislation of major significance like the national budget should take precedence over their reelection bids. (I trust that by the time this is published, this deadlock is already resolved.)
In passing laws, it is prudent to heed the counsel of Andrew Johnson who once said: "Legislation can neither be wise nor just which seeks the welfare of a single interest at the expense and to the injury of many and varied interests." To our legislator friends, please subordinate your selfish interest in favor of the people's welfare. Don't barrel your way to get your pork!
* * *
Manila Bay fishermen complained that they will have less catch of fish because of noise pollution and stress caused by the massive dredging activities on Manila Bay. They alleged that the excavation of the silt will disturb the serene life of fish species and other marine life in Manila Bay. Next time, we will hear complaints that the cleanup should be stopped because some poor people derive their livelihood from collecting tons of recyclable waste that are washed to the shores.
* * *
Many schools are now closing their doors for the 2-month school break and soon it will be summer. The sweltering heat will drive people to the beaches and resorts around the country, but to many people living in the slums of Tondo, Isla Puting Bato, Pasay and the blighted areas of Malate, San Andres and Intramuros, "Boracay" and "El Nido" are just few steps away from Roxas Boulevard. Despite the warning issued by the health authorities and the LGUs concerned, droves of people continue to flock to the waters of Manila Bay to escape the heat.  As early as two national elections ago, a concerned politician, former Senator Manny Villar, had issued this dire warning: "Naranasan ninyo na bang maligo sa dagat ng basura?" Now, his son, Secretary Mark Villar, is leading the efforts to clean up the place. I'm glad that something is being done now.
* * *
An interesting human interest event happened at an airport recently, which produced an extraordinary news story read around the world. It involved a Greek guy, Antonis Mavropoulos, who arrived late for his flight. Despite his plea that he be allowed to board his plane, he was rejected and missed his flight. Just a few minutes after its takeoff, the doomed Ethiopian Airline crashed, killing all passengers aboard. Lessons learned: 1) Departing planes wait for no man, 2)  It does not pay to be early. The last time I heard, Mr. Mavropoulos has written a book —"There is Life If You Missed Your Flight"— and has been successfully conducting seminars about it.
* * *
We were caught in monstrous traffic along Aurora and Katipunan in Quezon City, when I was jolted by a sudden knock on my car's window. A blind beggar was extending his hand toward me asking for alms.  He's about 50 – 55 years of age and could very well be one of my students when I was a Special Education Teacher at the Philippine National School for the Blind in Pasay and in the City Schools of Manila almost 50 years ago.  Alms solicitation happens practically in busy streets in Metro Manila, like in Ortigas and Katipunan where physically handicapped people roam the streets for small coins and food. I know the President has his hands full attending to various problems of state, and despite what others have said about him, the President has the softest heart for the needy and the deprived.  I hope he will do something to help them during the second half of his term.  I said this once before and I say it again, the true measure of a civilized society is how much its government takes care of its elderly, its women and children, and the disadvantaged and the handicapped.