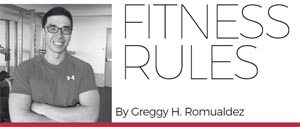 A large part of why we go to the gym is to keep our health in check. We want to improve our quality of life by staying fit, improving our functional strength and, of course, looking good.
If you go to a gym or fitness club like I do, be aware that there are infections and diseases we can potentially catch. That being said, catching something that will make us ill and cause some downtime is something we didn't sign up for.
Here are some common infections and diseases we can catch at the gym and some tips on how to avoid them.
Athlete's foot—Moist socks and sweaty shoes are the perfect breeding ground for this fungal infection that causes our feet to itch and grow irritating rashes that may also emit foul odors. We can get this by walking barefoot in the gym, wearing socks that have not been properly washed and dried, and not properly drying our feet.  To avoid this, make sure to wear fresh socks during workouts, and change them during prolonged sessions so as not to allow the fungi to breed. It is best to wear slippers, when walking around the locker room.
Cellulitis—No, this has nothing to do with cellulite. Cellulitis is a bacterial infection of the skin that is most often caused by the Staphylococcus bacteria. Other types of bacteria may also cause this infection. All it takes is a small break in the skin—a small cut or scratch—for this opportunistic bacteria to enter and do damage. What starts off as redness or irritation may lead to fever and chills. While this may take place in any part of the body, walking barefoot in gym locker rooms can cause cellulitis. So can skin to skin contact. This is usually treated with oral anti-biotics. Avoidance is simple; wear slippers around locker rooms and keep open wounds—no matter how small—properly dressed and covered.
Plantar warts—T his is caused by the human papillomavirus (HPV). Some forms of this virus can cause cervical cancer and genital warts. Again, walking barefoot in gyms is the likely culprit for contracting this on your feet.  How to prevent unsightly warts from growing on our feet? Avoid walking barefoot inside locker rooms, shower areas or any other part of the gym.
Colds and flu—If you touch a piece of gym equipment earlier contaminated with the cold or influenza virus by someone sick, then you proceed to bring your hand to your mouth or nose, you can easily contract either of the two viruses. Also, you could inhale the droplets from someone who is coughing or sneezing and get yourself infected. Enclosed spaces filled with people provide the perfect place for these viruses. Always be mindful of when you touch your mouth, nose or eyes. When you do, make sure your hands are clean and newly washed. Steer clear of people who are sneezing and/or coughing.  Or better yet, get a flu shot. This should protect you from most of the flu viruses out there.
So, hitting the gym isn't a risk-free proposition. But should this prevent us from going?  Not by any stretch. The countless benefits of working out far outweigh the risks, in my book. The threat of gym germs is something that can be effectively managed when we take proper precautions.
Image credits: WWW.FREEPIK.COM