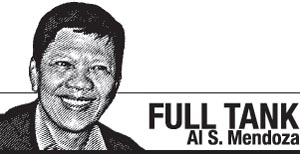 PARDON my irreverence anew but, please, let me go spiritual again? It's been a yearly thing since we began it in 2007—our Visita Iglesia. Our intrepid crew hasn't missed a beat. Chest-thumping time as this is now our 12th year. Time flies.
As usual, the cast was practically the same. My pledge must be kept or I won't make it to heaven: The mention of the names of my Kabig (Kapalohan Bisita Iglesia Group) mates: Dante & Ching (Juvida) Fernandez; Prosecutor Vito & Elvie (Arandela) Florido; Mayor Louie and daughter Liezl Visorde; New Yorkers Tito and Baby (Tolentino) Laurel; writer Sol Juvida and yours truly.
The two trusty vehicles were still in tip-top shape a dozen years later: The ever-reliable 10-seater Toyota Super El Grandia piloted by Bogs Mendoza and the Nissan Navarra handled by Benjie Romero. A welcome addition to our group this year were Letlet Jaca of Lucena City and Ronald Pahinalag of Kabankalan, Negros Occidental.
As we went South last year (Batangas), we went North this year (Pangasinan).
It's been almost a tradition for us to swap destinations year in and year out as we prepare for the Holy Week from March 25 to April 1.
In 2016 we also went North, covering Pampanga's mostly century-old churches on our 10th consecutive spiritual sojourn in search of the so-called Holy Grail.
Back then, we visited and prayed at San Fernando's Metropolitan Cathedral, Bacolor's San Guillermo, Betis's Our Lady of Lourdes, Saint James the Apostle and Saint Claire Monastery; Guagua's Immaculate Concepcion, Santa Rita's Santa Rita de Casia and Lubao's Saint Augustine. After almost a day of reverence—come rain or shine as usual—we repaired at my nephew's rest house in Subic, where we partook of pizza and fried chicken flushed down by beer, wine and whiskey. One only deserves a bit of the good life after fasting and praying, says a sage of note.
Our Batangas route last year included Laurel's Immaculate Concepcion, Agoncillo's Mother of Perpetual Help, San Nicolas's San Nicolas de Tolentino, Taal's Caysasay, Taal's Basilica, Santa Teresita's Saint Therese of the Child Jesus, Cuenca's San Isidro de Labrador, and Balete's Our Lady of Peace and Good Voyage.
After a daylong joust, we retreated at Talisay's exotic, forest-laden Balai Isabel Hotel by the Taal Lake. There, we spent a night of soulful merrymaking with ample food and spirits by the grace of the Almighty. This year, our first stop in Pangasinan was at the San Antonio de Padua in Rosales, Pangasinan. San Antonio is the so-called patron saint of the "lost."
"True," Pareng Vito said. "When I misplace something, I pray to him and, in less than a week, I will find it."
During our Visita Iglesia in 2013 at the Rosales shrine, Mayor Visorde prayed to San Antonio de Padua that he be given a second term as mayor of Calauag, Quezon.
"He answered my prayer," Mayor Visorde said. "Now, I am here to personally thank him."
From Rosales, we proceeded to Our Lady of Pillar in nearby Santa Maria, then to Saint Patrick in Tayug. After a quick, light lunch at Chowking, we journeyed to Tayug's Sunflower Maze garden. Sorry, but the place disappoints as it isn't really that beautiful as advertised. It is dusty and isn't well-kempt; its pathways are stony, rough and not visitor-friendly. This time, this side trip was the sore spot of our pilgrimage.
We next went to Santo Nino in Binalonan, then to Saint Jude Thaddeus (patron saint of the impossible).
"I became a certified public accountant because of my fervent prayers to Saint Jude Thaddeus," said Tito, who has made a fortune living in Chicago-New York for the last 45 years or so.
In his will, Tito said he'd bequeath Ching, Sol and Ofel with a wealth lasting five lifetimes!
We capped our holy trip at Manaoag's globally acclaimed Our Lady of the Holy Rosary/Good Voyage.
After occupying our reserved six rooms at Dagupan City's swanky Star Plaza Hotel, we had dinner at the well-known Matutina's along De Venecia Boulevard.
"The best dinner I've had in many months," chorused Pareng Vito and Bilas Dante, who feasted on grilled Bonuan bangus, Iluko pakbet and adobo oysters, among other sumptuous dishes.
By tradition, after every prayer on the 14 Stations of the Cross, we quietly do an extra prayer for our own personal intentions.
Ching's in 2017 was: "I prayed that the killings in drug-related cases will finally end."
Mayor Visorde: "I prayed that all of us would always remain strong so that we could continue doing this yearly intimate encounter with Dear God."
Elvie: "I prayed that up to our old age, we could still be together doing this devotion to our Lord Jesus Christ."
Sol: "Dear God, please keep our knees strong till the end of time."
For Pareng Vito, Dante and myself: "May our spirit in our spirited longing to serve and love one and all be lifted always by Dear God, Amen."
This year we had an almost similar theme: Strong-kneed and deep in faith in 2019—and forever.
Till next year.
PEE STOP Big pronouncements will be made today (March 23) when Toyota Motor Philippines President Satoru Suzuki launches the Vios Cup's fifth edition. Eagerly awaited are new features to spice up this year's event that has now become the most talked-about motor sports in the country. Cheers!