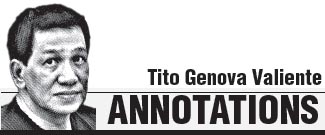 This story happened in a barber shop. It was one of those lazy, late afternoons of Tuesday. I was having a haircut. The session was almost over when my barber, Ronnie, whispered to me: Sir, someone had paid already for your haircut. Thank God I did not quickly turn around, or I would have lost my ear. But it was almost there, the mind shoving the body to make the swift turn so one could find out what was happening.
Was this a joke? Who would do such a thing, pay for someone's most ordinary, most regular of habits—a haircut?
People pay for your drinks. Some important men buy you cocktails. The scene is sheer sophistication. You are there nursing a drink, waiting for a drink, and a waiter approaches you and asks what you are drinking. In a wealthier world or in a poorer galaxy with terrific pretensions, the drink could be a martini. You look at the waiter who you feel has overstepped his role and ask why he is asking. He then gently points to you to a corner where a gentleman has already raised his glass. The man wants to buy you a drink, sir. He reads your column. That scene is alright. That scene fits the scenario in bad movies we love to watch. But no one, I believe, no one pays for someone's haircut.
Ronnie had stopped his ministration on my hair. This gave me the chance to scan the small space of the barber shop. I was not quick enough. I caught half of the man's body as he rushed out of the door. The other barber had inserted himself in the whispered conversation. Sir, he did not want you to see to him. But he said, he was your former student in the university.
All motions and all sound ceased at that point. The talk about everything and many things stopped. They were all looking at me. They were all praising the man who did what they thought was the rarest, noblest act: pay the haircut of a person you admire or respect or miss.
The barber who did my "former" student's hair never got his name. He was a new customer, having moved back to our city after a long stay abroad.
Ronnie resumed the session. I was lost in a tiny space, as I navigated a dark, narrow hall of memories. I remembered I did teach in the Jesuit university in our city many years ago. The students were good, I recalled then. I was younger and eager to make a difference. I was more patient, tolerant even.
Quietly to myself, I thanked the former student for not showing himself behind me to declare that he was paying for my haircut. I would not have allowed that; worse, I would not have recognized him.
Up to this day, no one has told me who that former student was. He, it seems, never told anyone of that act, which is understandable.
There are so many questions I am asking about this former student. Why did he come back to the small city? Has he retired? Is he happy with his life? Then comes the more terrible questions: Was I a good teacher to him, which is why he did that rare, noble act of paying for my haircut? Was he a bad student, and did I save him from academic destruction, thus the payback?
Teaching, as all would say, is one of the real professions in the world. The pay is generally not good but, each day, in the classroom, the teacher sharpens his wit and mind. The memories are rich and diverse. Each year, as students graduate, the teacher enables individuals to go forth, improve themselves, earn money, to conquer as well the world. If you have been a good teacher, and a former student has done well in his or her profession, you share in that achievement. If a former student has become a hardened criminal, then you participate as well in that notoriety. If the former student has become a politician, then blame yourself for the corruption that is happening, for this means you have—no excuses—failed.
When the world is on the brink of destruction, be prepared: the world will put the blame on the teachers.
Well, when my world reaches its waning moment, I shall be happy with the thought that, a former student, on one lazy, late Tuesday afternoon, paid for my haircut, as he rushed out so I will not see him and ask him and judge him for what life has brought to him.
E-mail: titovaliente@yahoo.com.