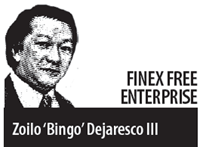 Tourism Secretary Wanda Corazon T. Tulfo-Teo reads the future correctly that the fate of tourism anywhere lies in addressing sector-specific wants.
Department of Tourism (DOT) Region 7 Director Sha Tamano cites faith, farm and sports tourism as generating extreme interest, for instance. Of the three, faith-based tourism exhibits the most promise considering the 90 million Catholics in the country and 6 million more from among our neighbors like the Koreans where 5 million are Catholics, 800,000 in Malaysia, 500,000 in Japan and 185,000 in Singapore.
We are reminded of the statistics provided by the United Nations World Tourism Organization that 330 million people worldwide go on a "religious tour" every year that generates $18 billion worth of business worldwide. This explains the tremendous popularity of places like Mecca, Rome and Jerusalem.
The DOT says plans to secure a budget to rehabilitate and develop religious and heritage sites in the country in line with the forthcoming 500th anniversary of Catholicism by 2021, coinciding with the day Ferdinand Magellan first landed in Mactan, Cebu, bearing both cross and sword in 1521. Secretary Teo said that at the recent Sinulog Festival in Cebu, 2 million visitors were recorded. Not only were tourists attracted by the historical and spiritual aspect of the tours but were there also to "experience religious tradition dating back to the pre-Spanish era." The DOT is developing tour packages from the pilgrims' eyes point of view.
After the Catholic routes, the focus will shift to Muslim, non-Catholic Christian and even the indigenous people markets. Right now, the most visited pilgrims' sites are the Basilica Minore del Santo Nino in Cebu, the Padre Pio Shrine in Santo Tomas Batangas, the Divine Mercy Shrine in Cagayan de Oro City, the Our Lady of Manaoag in Pangasinan and Our Lady of Piat in Cagayan.
Bohol has enough heritage and nonheritage churches in almost every town. The centuries-old churches destroyed by the recent earthquake have become attractions themselves. The fabulous islet of Panglao has been developed into a devotional enclave for the healer, Padre Pio, by businessman Ramon Rodriguez and is fast-becoming a major come-on for tourists. What about our colorful processions and self-flagellation rites during Lent?
Sen. Cynthia A. Villar is championing the passage of the "Farm Tourism Development Act" to institutionalize "farm tourism" in the country given the agricultural nature of most of our rural economies. Tax incentives are being crafted by developers to encourage growth.
In fact, there already are 100 accredited tourism farms mostly found in Luzon. Organic plants, medicine and perfumery development are also part of the so-called nature tourism that now accounts for 20 percent of the total tour business. There are now coffee tours in Cavite and the so-called "coffee crawls" in metropolitan cities like Manila. Davao has its fruits and cacao farm tours.
Farm Tourism is not just about farm produce but also farm experience. A tourist actually harvesting corn and witnessing coconut husking, fishing on rivers for fish, shrimp, crablets, shells and cooking them in a nipa hut are examples of a farming experience.
Culinary treats and delights, as well as fiestas are two of the country's trademarks—after all, we are a melting pot of various cultures.
Finally, sports tourism. Because of the nation's excellent diving spots and shores for snorkeling, blue waters for jet skiing and the like, we are not behind in this category. We also now have adventure tours inside mysterious caves and mountain trekking. Tour-bike contests along picturesque highways fronting the oceans and dragon-boat competitions are slowly evolving into major attractions. Mactan, Cebu, hosted the 2017 Cobra Triathlon international event that drew close to 3,000 participants from 52 countries.
But the newest craze in town for select countries is the so-called bad weather tourism. There is now a market for people looking to experience tempestuous weather. Examples are watching the vast Pacific Ocean in British Columbia and how, in bad weather, 30-foot waves, driving rain and rolling thunder are witnessed. These are activities that lifted from 30 percent the occupancy rates of hotels there in the rainy season to over 50 percent today. Big storm tourism, this is. Add to that is West Australia's most active lightning spots and Namibia's spectacular larger-than-life sandstorms. The list goes on.
The low cost of oil has fueled tourism and travel in the world in a major way. Thus, there is the challenge for countries to actively segmentize their tour markets in order to stay competitive.
****
(Announcement: The St. Theresa's College Manila's grand homecoming will be held on February 24 [Saturday] at the Harbor Garden Tent of the Sofitel Philippine Plaza with the theme "Better Than Ever—Theresians Celebrate Wellness." The featured artist is Basil Valdez. You may contact Carmen Serina, STC Alumnae Foundation president).
Bingo Dejaresco, former banker, is a financial consultant, media practitioner and book author. He is a lifetime member and chairman of the Broadcast Media of Finex. His views here, however, are personal and do not necessarily reflect those of Finex.          E-mail: dejarescobingo@yahoo.com
Image credits: Nonie Reyes