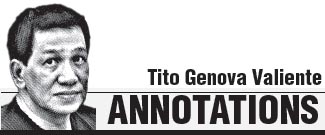 I am some hundred kilometers from an erupting volcano as I write this.
Last 15th of this month, Dr. Chris Newhall, a volcanologist based in Santo Domingo, Albay, came to Ateneo de Naga. This was to hold a forum on the volcanoes of Bicol upon the invitation of the university's Institute of Bicol History and Culture in cooperation with the university press. Newhall was supposed to speak last year but, due to unforeseen circumstances, his talk was rescheduled. Two days before his lecture, Mayon erupted. It was therefore with his wit and wisdom that the volcanologist began his engaging talk by explaining that "we did not cause the eruption."
It was a good beginning for a volcanologist to stress that we can never be the reason for the eruption of a volcano. Not our bad or evil  intentions, not even our religion can summon any volcano to spew lava and allow the hottest of mud to come dripping down.
Mayon Volcano has always been addressed as a woman. When one visits the province of Albay, it is always a challenge for any individual to view the peak of Mayon. It is said that when you are not interested in "her," she will not show her face, her peak, which to the macho is a breast. If she likes you, then you can see her in all her glory.
I have no problem with this personification of the volcano as a woman. I also do not have issue if people see the volcano as a sometimes timid, sometimes vulgar woman who would display her allure to those she favors.
The problem with this personification is how we are to deal with the eruption and nature itself. Does this mean she is angry? Is this anger for no reason at all?
Media networks have already fielded their men and women around the volcano. These newscasters have continued the personification of Mayon. Almost all of them—a sign of lack of creativity of many media practitioners—use one word to describe the event: pag-aalburuto. The word literally means "to throw tantrums," a behavior one ascribes to a child or anyone who is enraged without rhyme or reason. The original in Spanish—alboroto—is closest to what is happening now, as it means "to create a ruckus" or "to cause a commotion." Be that as it may, Mayon is not a person and to keep on maintaining that personification speaks really more about us as people in times of calamity. This is the kind of thinking that gets us into trouble.
Our sense of fatalism gets vetted on days of eruptions and earthquakes. These are bad days for writers, too. From the dustbin we gather words like "fury" and "wrath." Volcanoes are not gods. Our religion or lack of it has nothing to do with ashfall.
Mayon Volcano, like any other volcanoes, does not possess any sense of justice. Much as I want it, too, when pyroclastic materials fall on politicians, it is not justice. The vocano does not know which politician to punish. I doubt if the volcano can tell the peasant from the landlord. Right now, the eruption is causing havoc upon the poor people. They should be told they are not being punished by God.
What can we learn about our volcanoes? In that talk of Dr. Chris Newhall, he revealed to us what we were deathly scared of: The volcanoes in the Bicol region are all alive. The massive Isarog, which looms over Naga City and the neighboring towns, is alive. The legend about it as a volcano that will spew water, instead of lava, is not true. The mountain with a collapsed crater, known as Mount Iriga by those who live in Iriga, Mount Asog by those who are from Buhi, and Monte Buhi for the rabid Buhinon, is still alive. We also learned that there are no sleeping volcanoes. The notion of geologic time, where, in an outburst of unintended poesy, Newhall said 10 thousand years can be just like yesterday.
Geologic time tells us about volcanic eruptions happening thousands of years, even millions of years. That sounds like forever, which encourages me to take back my vehemence against people's obsession about forever. In geologic time, you can fall in love, and that love, like all the volcanoes in the world, can be just there for thousands and millions of years. Even if it thus ends, it will be like forever.
Go and love like volcanoes. And, as for clichés, I am conceding for the first time to newscasters and their nagbabagang mga balita, or "flaming news." That is not poetry but science.
E-mail: titovaliente@yahoo.com.