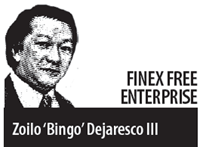 There were fears politics would put an end to the highly popular Philippine Basketball Association (PBA) tournaments a few weeks ago over a controversial trade involving franchise player Christian Standhardinger.
The fate of the 42-year-old institution hung in the balance as the league was torn asunder by two warring groups: the San Miguel Group and the MVP Group (Manny V. Pangilinan).
Seven PBA teams, led by the MVP Group (TNT, NLEX and Meralco), joined by Alaska, Phoenix, Blackwater and Rain Or Shine wanted PBA Commissioner Chito Narvasa to resign. The MVP Group demanded for Narvasa's resignation but the SMB Group (SMB, Magnolia, Ginebra) joined by KIA (of course) and Globalport relented.
An impasse ensued that threatened to shatter an institution which has attracted a following of 72 percent of Filipinos, or 53 million of the nation's 103 million population.
Narvasa, son of former Chief Justice Andres Narvasa, saw the better side of prudence and resigned on December 17 and saved the PBA.
The PBA, the oldest Asian professional basketball and the most followed after the National Basketball Association has been a source of great advertising mileage for the PBA teams. The PBA cannot and will not die.
Because despite the P100 million franchise fee and another P100 million in yearly operating costs, Media Trackers believe the advertising mileage is three to four times operating costs or P400 million every year.
There was a time when maintaining a PBA team was prohibitive when there were no caps on the salaries of stars that were as high as P5 million a year, plus bonuses and incentives that equaled the pay of some CEOs in the corporate world. (Recall the P25-million five-year deal for star Alvin Patrimonio?)
Now, there is a ceiling on salaries and the lowest paid player is now getting only P50,000 and limits on winning bonuses except winning the championship, which is a corporate winner's prerogative have been imposed. Expenses are now more manageable.
But the goodwill and promotional value are very hard to quantify. Look at the 12 teams today—why are they there?
SMB has fortified its status as the best beer in the country through the years. Ginebra was once Anejo Rhum and Gilbey's Gin—all marketed successfully.
Rain or Shine Paints attributed its being the No. 1 elastometric paint product in the country to basketball, starting with their Philippine Basketball League days in 1996, Alaska remains a very popular family milk and Magnolia a leading ice-cream brand.
Blackwater men's fragrance and perfume have been steadily gaining ground as an entry of the Ever Bilena Group, while KIA Picanto is selling its image as a compact city car built by Koreans.
Phoenix Petroleum wanted to be known quickly as it is the first independent oil company breaking the stranglehold of the Big Three after the oil deregulation period, while TNT formed part of the telcos under PLDT with Smart and Sun.
There are three PBA companies whose presence is hard to explain except for merely cultivating goodwill. Meralco, a franchise power distributor and a monopoly of sorts, as well as NLEX (a leading road toll developer) are two of them.
Globalport, which manages ports, can only be there, perhaps, because its Chairman, Mikee Romero, is a youthful sports-minded fellow.
And so all's well that end's well with Narvasa's resignation. The most popular tournament has just kicked off.
Expect SMB and Ginebra to slug it out in the championships. Gives one an idea why the MVP Group bitched about the Standhardinger lopsided trade.
The PBA, ah, it's too good to die—for any reason.
****
Bingo Dejarresco, a former banker, is a financial consultant, media practitioner and book author. He is a Life member of Finex but his views here are personal and do not necessarily reflect those of Finex.
dejarescobingo@yahoo.com